If you're reading this then you already know what this blog is about; my first Coachella experience! Before you get too excited, I didn't actually go to the music festival. BUT, I did have an amazing time at the parties. When I first received an email with an invite to a Coachella VIP pre-party I screamed. I'm still not used to this life. lol. One invite after another and the next thing you know I was planning a trip to Coachella Valley. Of course I had to invite my beautiful Youtube partner, @redlipstickstain, as my plus one. So, we headed out to Palm Springs early Saturday morning and stayed one night. Oh but let me tell you, I was exhausted by Sunday afternoon, so one night was enough. Let's just say that desert heat is nothing to play with. We started off our Saturday with a pool party hosted by Popsugar and it was so much fun!
So many of my favorite Youtubers, bloggers, instagrammers, all the social media influencers were there. I ran into the beautiful actress, Aja King from How To Get Away With Murder, she was so lovely. They had an Ulta beauty bar station, live performances, DJ's and free food and drinks of course. We stayed there for an hour or so and quickly dashed off to our next party.
The next party might've been the highlight of my trip. We went to the For The Love Of Music party hosted by Beats by Dre. As soon as we pulled up, actress Yara Shahidi was waiting to get on our party shuttle! I screamed once again. I absolutely love her. Anywho, that party was a blast! Erykah Badu was the DJ, Erykah Badu guys. It was LIT! They had a braid bar, where they were doing complimentary Coachella style braids by @jahmonit. They also had a snowcone stand with alcohol infused flavors. This party had a little bit of everything. It was hosted in the backyard of this beautiful mansion might I add. Probably the most fun I've had in a long time.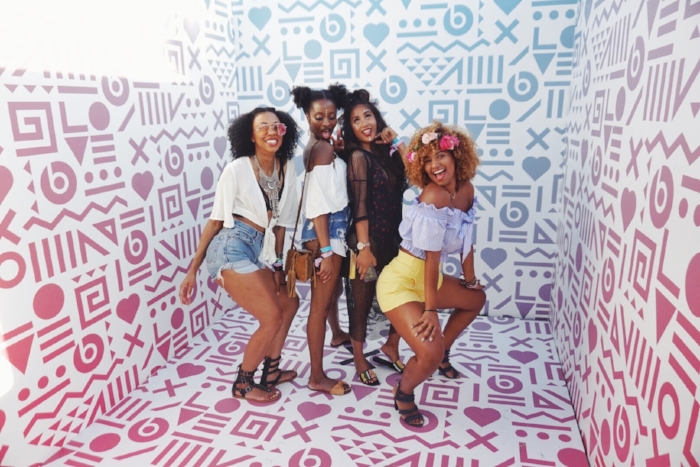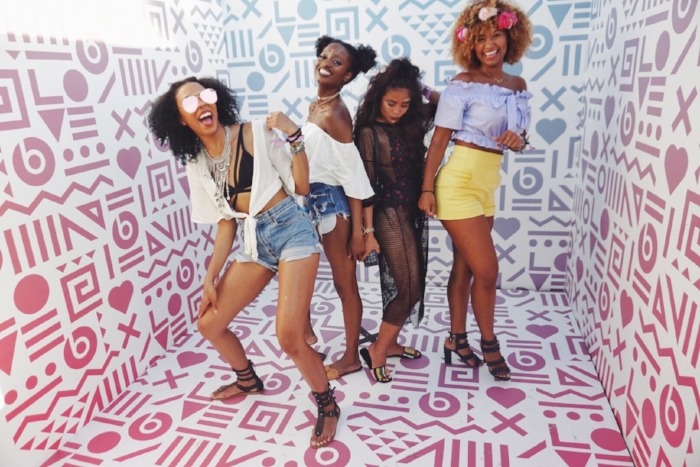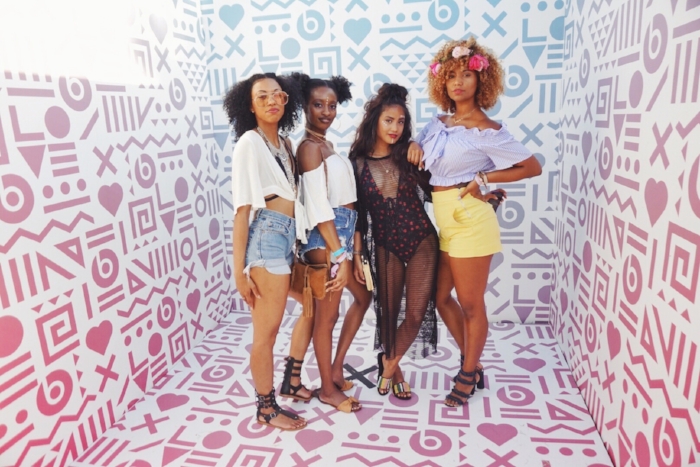 At 6pm the parties wrapped up and shuttled everyone over to the Coachella grounds to enjoy the festival. Us on the other hand, we went to have dinner and drinks at this cute little mom and pop Mexican restaurant. After that we decided to hit up the Revolt house. Me being the grandma that I am, I went home before all the artist came out, was pooped. Then we woke up Sunday morning for round two! Round two consist of stopping by The Lucky Lounge with Homeaway. Like Beats, they had a braiding bar, live performances and free food and drinks. They also had a massage table, a station where they were doing nails and a personalized bandana station with the signature Lucky Brand logo. Super cute and lots of fun.
When we left that party we decided to go back to the Beats by Dre party to end our trip with a bang. Literally such a fun experience. Even though I didn't get to go to the actual festival, I had the time of my life! I can not wait until next year, hopefully I'll make it into the festival. lol. Our vlog from the trip will be up soon on One Plus One's Youtube channel. Make sure you're subscribed so you can get notified when we post it. It's a fun vlog that you don't want to miss!