Hey guys! It's been a minute, but I'm back with a Travel Guide. I'm excited to share with you guys my trip to Costa Rica. Last week, my friends and I, traveled to Costa Rica courtesy of Southwest Airlines. Southwest has international flights y,all! A lot of people didn't know and were very surprised to hear that we flew internationally with Southwest. Here's a list of International Destinations Southwest flies to! We also partnered with Teva and they sponsored our shoes for the trip. I've never had Tevas before and now I'm obsessed with them. They're super comfortable and stylish. The perfect shoes if you plan on walking around for a long time. I'll show you guys how I styled them in my Costa Rica fashion blog.
Where To Stay:
We stayed in Costa Rica 6 days. Finding somewhere for 7 girls to stay was a bit of a challenge. We all wanted to be together of course, so we decided that finding an airbnb was the best option. We absolutely loved the airbnb we chose. It was in a perfect location, shortly outside of Jaco. Only downside to the location was, it was about an hour and a half from San Jose airport. Other than that, it was beautiful. It was a 3 bed/3 bathroom house, equipped with a washer and dryer unit. Had a nice, relaxing patio and enough space for all of us to live comfortably.
What To Do:
Day 1: We explored the beautiful streets of Jaco. First, we stopped by a juice bar called Costa Juice. Next door there was an amazing Ice cream shop called Gelato Artesanal. The ice cream was like $3 for one scoop and it was so good. In this area they had a lot of local owned shops where you can get cute souvenirs for a really low price. I purchased a colorful backpack for $20 that I ended up using the whole trip. We ended our night walking down the streets of Jaco until it rained!
Day 2: Costa Rica Horseback tours "The Riding Adventure." This was by far the best horseback riding ever! It was so magical. Diego was our host and he was exceptional. Nothing beats riding your horse into a private beach. That was an experience I'll never forget, so you should definitely check it out if you're in Jaco area. After horseback riding we went bike riding. I don't know what we were thinking working out the same muscles, but it was fun! We rented bikes from Biciclo bike shop in Jaco. You can rent a bike for $6/day or $20/week. Super cheap!
Day 3: Costa Rica Waterfall Tours x Canyoning. You must experience this tour! The tour is in the Tropical Rainforest and it was everything I dreamed it would be. You start off by driving up to this cabin where they feed you a delicious meal. Then they take you for a ride to the top of the rainforest. You get to enjoy a beautiful once and a lifetime view. When we made it to the top, the first thing we did was ziplining. We went ziplining twice! My first time ever ziplining and then I got to do it twice! Then we hiked through the canyon until we arrived at a cliff. We had the option to jump into this little lake with a waterfall in the background, it's beautiful. Then we started hiking again until we made it to our first canyon to repel. You repel twice down the rocks and 4 times down waterfalls. It was the most fun I've ever had in a long time. Definitely something to check out!
Day 4: This day was pretty chill for us. We did a lot of activities prior, so we decided to stay at home while it rained. Later that night we went to a restaurant in Jaco called Senor Harry's. They have superb customer service and really good drinks! After that we walked down the street to Black Marlin night club. It was a Saturday night and the dj was jumpin'. If you're looking for a turnup, check out Black Marlin night club.
Day 5: We drove to Manuel Antonio National Park/ Quepos and went to the beach. We were bummed that we didn't come to this city sooner. It had so much culture. Quepos was a little more expensive than Jaco, but the city was very nice. They had a lot of picturesque places! The beach was really beautiful. It was more crowded than the beaches in Jaco, but it was nice to see how the locals live!
What To Eat:
The food in Costa Rica was amazing! We quickly learned that the Sodas (which are like a mom and pop restaurant) had the most affordable food. My first meal in Costa Rica was at Restaurante Pura Vida #3, which is right off of Highway 34. Our plates were only $7 and it was a full meal!
Our next meal was after the horse riding adventure. We went to a resort on the beach called Sunset Resort and the lunch plate was only $12. It was DELICIOUS! Probably the best meal I had the entire trip. No exaggeration!
We found a cute little gem, Jardine's Cafe, about 10 minutes walking from our airbnb. We only tried the breakfast food, but that alone was enough for me. I had "The Frenchie" which was french toast, potatoes, eggs and Costa Rica's signature rice and beans. All of that for $6! See what I mean by the food was amazing. Nothing beats, cheap and delicious.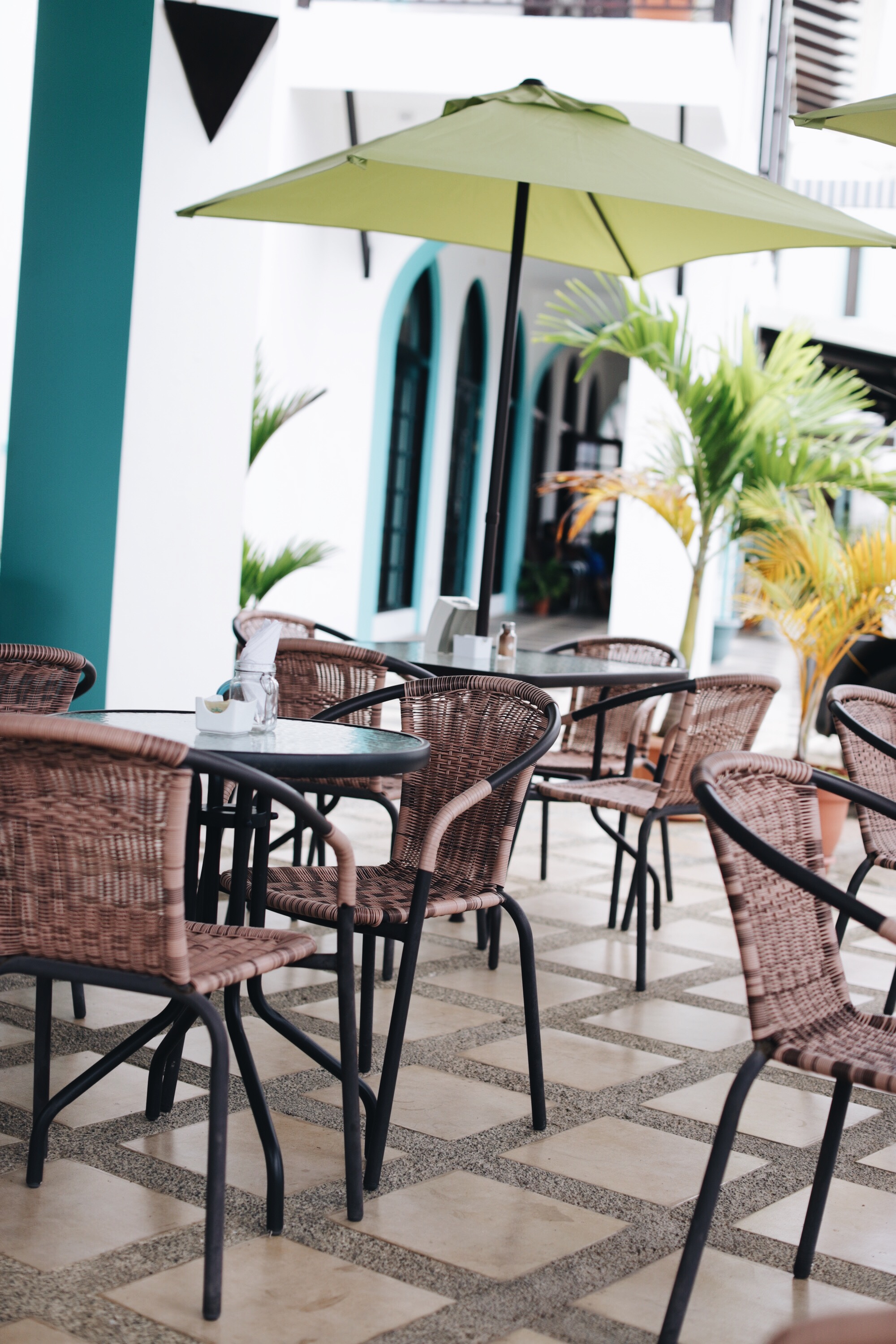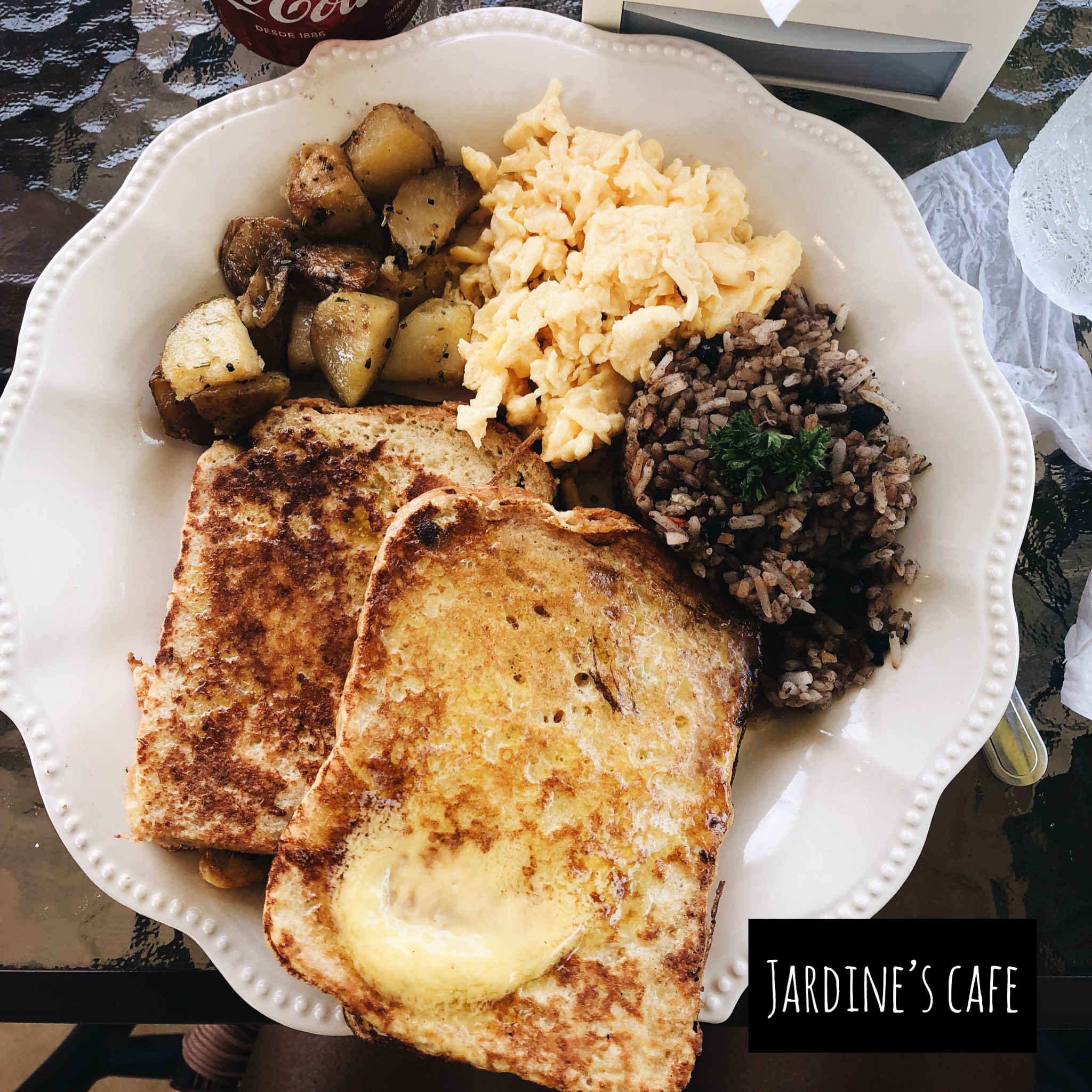 The last restaurant we went to was pretty pricey. It was in Quepos, near the Manuel Antonio beach. Z Poolside Bistro, sounds expensive! lol. The food wasn't as amazing as some of the cheaper spots we went to, but it was still good. I had the ceasar salad with tuna and some fries. Total for that meal was about $22, but we used the space to take cute pictures so we couldn't complain.
We did some grocery shopping at Maxi Pali the first day, so we cooked a lot at the airbnb. If you're into saving money while traveling, I definitely suggest getting some groceries and cooking from time to time.
Overall, I had the time of my life! I really want to go back for 2 weeks and explore more of Costa Rica. I hope you guys enjoyed my guide and if you're planning on visiting the Jaco area, do all of these activities!! Stay tuned for my fashion post about what I wore while in Costa Rica, until next time...
XO,
Yvette Corinne